Giving a new born baby an educational bursary Gift. A Welcome to the world gift. Supporting Mothers with the child educational bursary from birth! with the option to increase when relatives also add to the £60 Symbiosis Tree for life educational bursary sponsorship to the maximum of 10 bursaries trees per child.
The Symbiosis Tree For Life Bursary new born certificate pack containing:
A Welcome to the world card.
60% Ownership certificate,
A booklet with a year 3 open day harvesting invitation.
9 add on correspondent Reference and booking web site information. All with the individual sponsorship bursary tracking login.
Full Information about Symbiosis Tree For Life Educational Bursary, Aims & Objectives.
(Please note, all newly planted orchards will have there first harvest in year 3)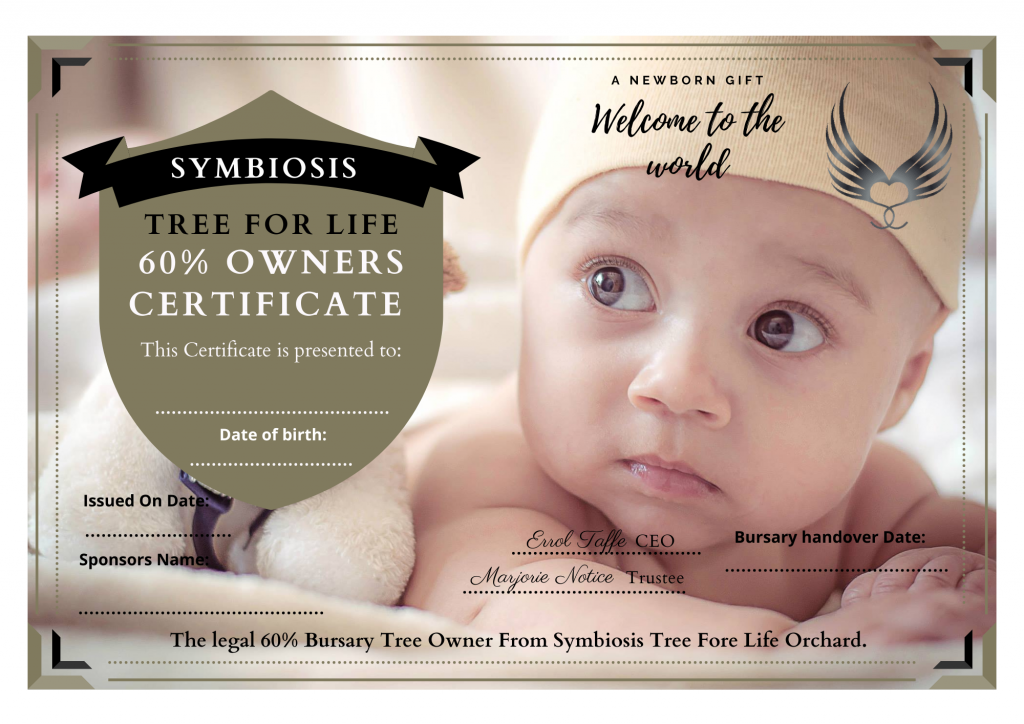 Tree For Life
To Stabilize our earth.
Provide shelter from Sun, Rain & Wind.
Share's root nutrients & water from under ground with near by shrubs and plants.
Purifies our air helping us to breathe.
Sheds its leaves every year to protect and sustain our earth.
Not to mention the millions of fruits it provides for us every year and asks nothing more than to exist!
Plant It, Nurture It and It will Nurture YOU FOR LIFE!
Engaging people and communities
Symbiosis Tree For Life custodial Orchard offers people and communities the opportunity to engage. Symbiosis Tree For Life Educational Bursary orchard land. Sometimes this is in partnership with Farm schemes or colleges. As a result people can enjoy the countryside and understand the importance of food and farming. They can connect with the land and also gain access to the orchard farm with our family and friends open days. We offer a structure for involvement, where everyone can make a difference.
Our vision
Symbiosis Tree For Life forms the infrastructure to farm a far reaching corrective beneficial farming framework, to form a healthy, sustainable regenerative agricultural system (Symbiosis Food For Life Farming) that:
Provides fresh local food;
Restoring Biodiversity:
Organically Sustainable farming:
Adopting energy saving systems:
Connects communities to land;
Supports land-based education, nature and well being.
Creates rural jobs in a Farming Community and improves countryside economies.
Providing Off Grid Housing with all the modern convenience with sustainability.
Restoring Work committed time and real family time balance.
Supported by a Educational Bursary Framework System.
For more info: EDUCATIONAL BURSARY CERTIFICATE