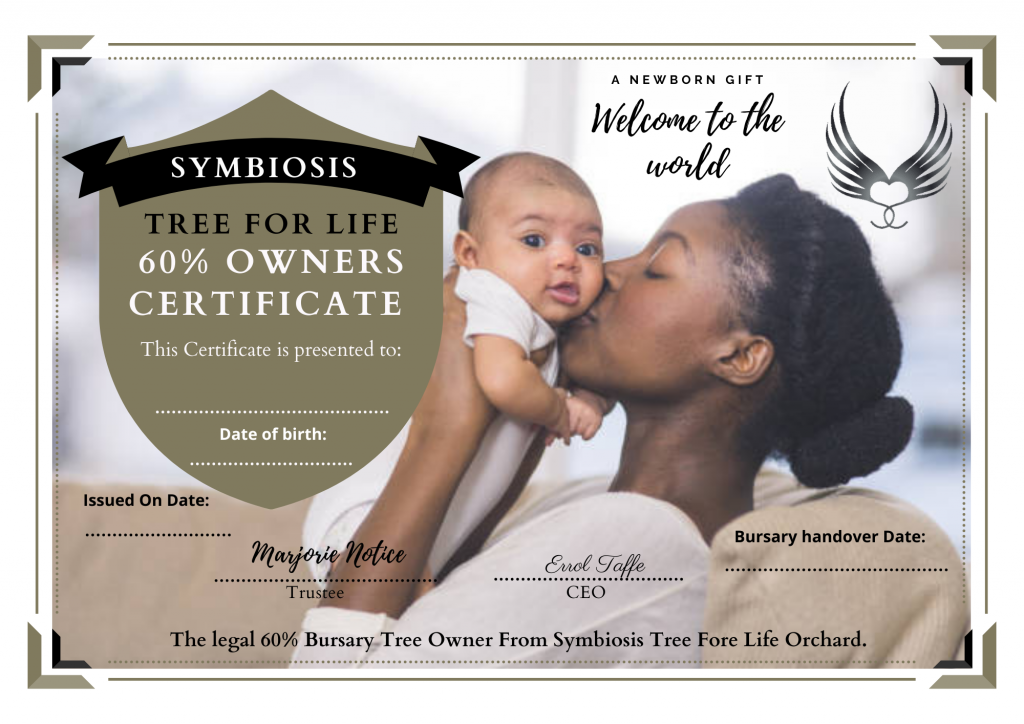 The Symbiosis Tree For Life Certificate was created by Errol Taffe to do just that! It will assist parents who cannot afford the ever increasing cost of further education and also encourage children to develop an interest in farming. This project dispels the myth "Money Does Not Grow On Trees!"

TREE FOR LIFE establishes an EDUCATIONAL BURSARY CERTIFICATE that gives ownership of a tree to a child. The bursary includes a dividend of 60% of sales produce to the owner of the tree at the age of 18.
The Bursary Account will be held in trust and paid out to the owner's chosen educational cost. The 60% bursary dividends will accumulate for 18 year adding to their bursary. With a maximum of 10 bursaries trees per child. In the event that the owner no longer have educational needs, the owner can nominate, another baby or under 10 year old family member, depending on time remaining from the 18 year, through the trustee board.

WHAT IT WILL NOT DO:
It will not include Travel Costs, Insurance, Accommodation, Food & Beverages, Alcohol, Medication, Holidays or any form of Entertainment or Personal Financial Gain. In the unfortunate event of the owner's loss of life, the owner's family must inform the trustees and the sponsor immediately so, a dividend calculation can be achieved, depending on the bursary balance. It could enable funds to be provided towards funeral costs, either in part or whole. In the event of the owners death, unless donated to another child member of family, the Tree can be re-allocated to our Symbiosis Tree For Life Memorial trees, or another school child or Baby. The trustees decision will be final and unequivocal.