A special bereavement gift. Helping families with a memorial tree or tree's up to 10. Each carrying a 60% ownership certificate, in the name of the child and there tree sponsor. This special bereavement Bursary funds can be released to the Mothers or parents 18 years later. There is no amount of money that will replace losing a loved one, but this may help towards a brother or sisters further education. or simply help towards bills. Symbiosis Tree For Life Bereaves with you too!
How does this work? Symbiosis Tree For Life, creates an educational bursary certificate; funded by a £60 sponsorship scheme, that purchases a fruit tree from Symbiosis Tree For Life Orchard. That interns provides a 60% produce ownership, for children of disadvantaged backgrounds or newborn babies, which will be collectively collated on a yearly basis to be paid out at the age of 18. Which could be as much as £2,000. The sponsorship scheme carries a tracking facility enabling the sponsor to follow the Investment progress, this could be used for an annual documentation.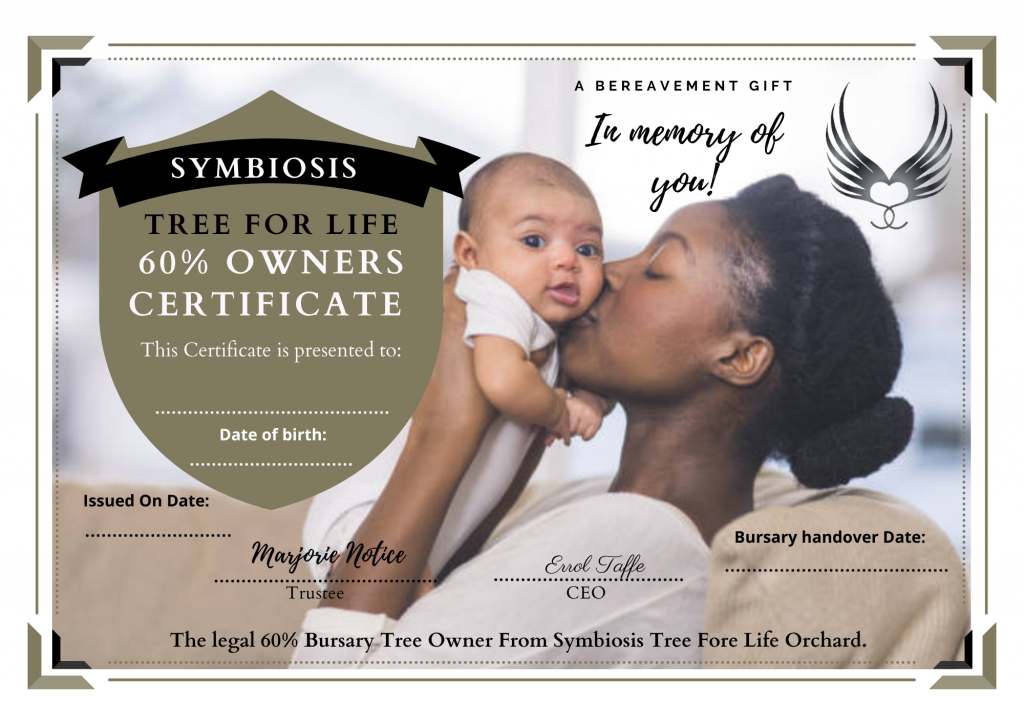 Bereavement support helpline and webchat
If you would like the opportunity to talk freely, for as long as required, with a sympathetic and understanding listener, please contact us via our helpline or webchat
If you would like to talk to someone confidentially and for as long as you need, you can call our helpline. It is a Freephone number that is free to call from landlines and most mobiles.
Our helpline advisers understand how hard it can be to talk about what you are going through and are patient and empathetic.
Contact our helpline
Call 0808 802 6868
or email support@lullabytrust.org.uk
Calls to our helpline are free from all landlines and most mobile phone networks. The helpline is open:
Monday – Friday: 10am-5pm
Weekends and public holidays: 6pm–10pm
You can also talk to us via webchat on weekdays 10am-12pm.